A Moment with MOSERS November 2022
Dec 7, 2022, 10:33 AM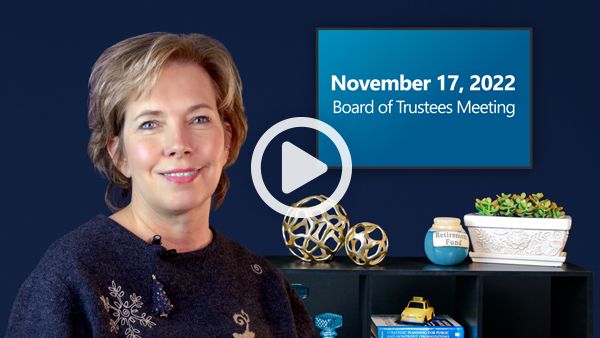 The MOSERS Board of Trustees met for their regular quarterly meeting on November 17, 2022. Since the official minutes of that meeting won't be available until after they are approved at the next quarterly board meeting, we are providing this summary in order to get information to you more quickly. Please watch the video above and read the information below to learn more.
Welcome to this edition of A Moment with MOSERS!
At the November Board meeting, we expressed our gratitude for their dedicated service and said farewell to four Board members: Senator Paul Wieland, Representative Rusty Black, Representative John Wiemann, and Treasurer Scott Fitzpatrick. These fiduciaries have been committed Board members and their many contributions will benefit the system for years to come.
As part of the Audit Committee report, we noted that the MOSERS Annual Comprehensive Financial Report for the year ended June 30, 2022, is available on our website. Some highlights from the report include:
MOSERS' employers, including the state of Missouri, contributed 100% of the amount that our external actuaries determined was needed to meet current and future obligations.
Newer employees (those hired since 2011) contributed $41 million toward their future retirement benefits, and
MOSERS paid more than $991 million in pension benefits to retired state employees or their survivors. These benefits have a significant and positive economic impact on our state and local communities since nearly 90% of retirees remain in Missouri spending these benefit dollars on goods and services right here at home.
As part of the Audit Committee report, the Board also approved the MOSERS Fiscal Year 2024 operating budget.
The Investment Committee recommended and the Board approved the updated Investment Policy Statement.
The Strategic Planning and Governance Committee recommended, and the Board voted to support, a MOSERS legislative proposal for the 2023 legislative session, which begins on January 4. On a related note, I provided Board members with a report on our legislative communications plan for the upcoming session. You can visit our Legislation page throughout the session to view updates and track progress.
As 2022 comes to an end, I will be stepping down as executive director of MOSERS. There really are no adequate words to express the honor and privilege it has been to lead MOSERS over these last 5 years. As a 30-year MOSERS member, I am thankful for the hard work of our Board and staff. Rest assured that it is YOU, our members, that are at the heart of everything we do.
After I announced my upcoming retirement this past summer, the MOSERS Board conducted a national search and ultimately named our own Abby Spieler as the next executive director of MOSERS. Abby currently serves as general counsel and deputy director of operations. Abby will officially take the helm of MOSERS on January 1. I look forward to all the great things that Abby Spieler is going to do as she leads our staff as executive director.
So, for one last time, I would like to thank you for watching this edition of A Moment with MOSERS. In this life, we only have so many moments, thank you for spending THIS MOMENT with us. Have a wonderful holiday season and much happiness as we move into 2023.